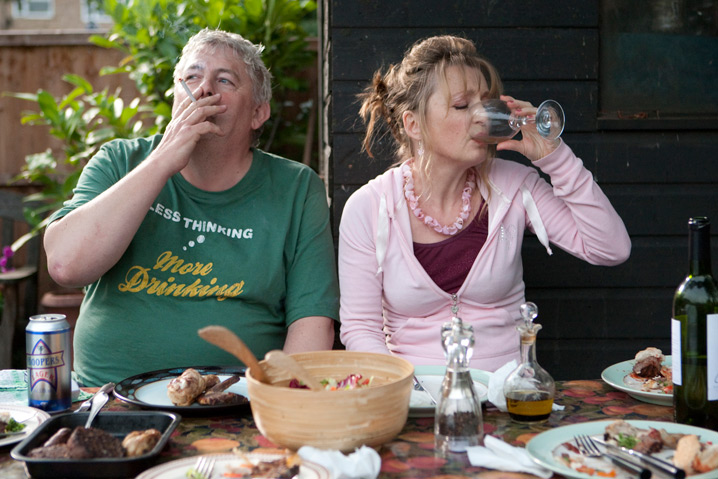 Mike Leigh has championed the social-realist style of film-making throughout his career. Growing up in the harsh working-class area of Salford tends to influence your world view, and Leigh's films offer an uncompromising position on the drama of everyday reality, warts and all. But while there are many similar film-makers who tend misrepresent social realism as glib cynicism, Leigh has recently veered away from that. After All or Nothing and Vera Drake Leigh slipped out of the trap of grimness and made Happy-Go-Lucky, a film which challenged our attitudes towards the routines of existence. And now we see Leigh tackle issues of age and social confinements in Another Year.
While Leigh's films are never plot heavy, Another Year centres on aging couple Tom (Jim Broadbent) and Gerri (Ruth Sheen), who live a modest but rather fulfilling life as a geologist and counselor respectively. Only their happiness is contrasted with their friends and relatives. Gerri's work colleague Mary (Lesley Manville) is single, aging, and in deep denial as she covers her unhappiness with a smile and plenty of booze. Ken, Tom's workaholic friend, is too afraid to retire and spends most of his free time downing cans of lager. And when Tom's brother Ronnie becomes a widower, we fail to see any emotions and regret behind the blank façade.
This is all introduced by a stand-out and independent scene which sums up the movie. Gerri has an impromptu session with a working-class woman (Imelda Staunton, on one of her best performances) who can't sleep. Gerri works hard and carefully on the woman's feelings, but she's defensive and resistant. And here we're introduced to the theme of the film: denial. For it is denial that seems to be the key factor for unhappiness in all of Tom and Jerri's friends. Mary, the most fascinating of the film's characters (and if Manville is denied an Oscar it will be a tragedy), is in denial about her unhappiness, convinced she's living the free and fun life of a bachelorette, forever pining for Tom and Jerri's son Joe (who is many years her junior), as if he's the gateway to sharing the family self-satisfaction. Ken doesn't understand life out of work, and Ronnie was devoid of emotion, as a father and a husband. It's a moving but sad portrait of how the working-class can cover up their emotions and ruin their lives in doing so.